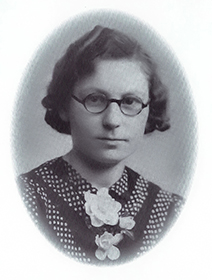 Joyce was still in her flat in October when an infection led to a stay in hospital. She came out of hospital and went into a care home. She was in the home on her 101st birthday in January, when members of her family gathered. Her granddaughter made her a cake (with candles) which delighted her. Sadly she passed away just a few weeks later, her lace pillow in the corner of her living room to the last!

Joyce started her lacemaking at an evening class at Neston High School, taught by Liz. They moved to the Town Hall, and when Liz decided to retire from teaching, Heather Leather took over the class which eventually ran for some years as a self-help group in the Civic Hall.

In 1984, when North Cheshire Lacemakers Group was set up, Joyce was a founder member, and has been a keen supporter ever since. Then, when Liz was the prime mover in setting up the South Wirral Lace group in 1987 Joyce was again a founder member. She was one of the enthusiasts who undertook City and Guilds in Lacemaking, going to Warrington for three years with Pat Cross for tuition by Jane Rushworth. She struggled a lot with the artwork side but stuck with it, emerging triumphant.

She ran lace classes sat her home, two sessions per week, for many years, and there is a good number of local lacemakers who have her to thank for their early tuition.

She was also a regular attendee at Knuston Hall (in Northamptonshire), in the early days with Vi Bullard and Barbara Underwood, and then latterly with Denise Vickery. More local tuition was provided by Denise Vickery. With Ingrid le Count she ventured into Russian. Ann Driscoll and Debi Whittaker provided the transport for these classes for a good few years, until, becoming unsteady on her feet, she reluctantly decided she was no longer able to attend.
Her daughter Beryl held a party on her 100th birthday, for which one of her granddaughter's made a beautiful cake, with 'lace' icing on the top. She was delighted to receive her 100th birthday card from the queen, and lots more cards besides.
Ruth Hockney